Company Profile
Bhiwani, Haryana, India is the location of our company, Mittal Polyfil from where we perform all our business operations in a systematic manner. The workforce of our 1994 established company follows a professional way of working in order to achieve customer satisfaction and loyalty. Curtain Tape, Disposable Dustbin Bag, Black Non Woven Fabric, Non Woven Fabric Roll, Laminated Non Woven Fabric, Slitting Narrow Woven Fabric are some products in our diverse portfolio that we have created for our customers. Our priority is set towards meeting the requirements of customers in the best possible manner. The team is trained to work in all types of work environments. Our work ethics are the basis on which we have retained our customers.

Applications


Packaging- Non-woven fabrics have multiple usages in the packaging industry. They are used for making reusable bags, absorbent pads for packaged meat and envelopes.
Medical Sector- Non-woven fabrics are used for producing protective garments in hospitals & healthcare industry, lining, backing & interlining in upholstery luggage & garments.
Agriculture- Here non-woven fabrics are used for agriculture crop protection, protect against UV radiations, wind & insects and enhance farm production.
Industrial- Non-woven fabrics are used in the production of Lining, Backing & Interlining in upholstery, luggage & clothes, head covers, bed sheets, pillows, etc.
Business Specifics-
Business Type

Exporter, Manufacturer, Supplier and Distributor

Export Percentage

50%

Primary Competitive Advantages

Excellent product range

Competitive pricing

On-time delivery of consignments

Vast client base

Sales Volume

3 Crores INR

No of Staff

14

Year of Establishment

1994

No of Production Lines

2

Export Markets

Asia and USA

Investment on Manufacturing Equipment

2.5 Crores INR

No of Engineers

4

Monthly Production Capacity

70 Tonnes

Product Range

PP Spun Bonded Non Woven Fabric

Narrow Woven Fabric

PP Multifilament

Non Woven Fabric

Narrow Fabric Tapes

Narrow Fabric Tape

Non Woven Tape

PPE Kit

Medical PPE Kit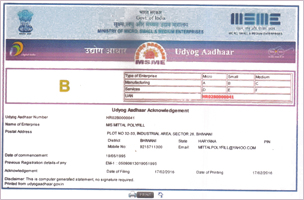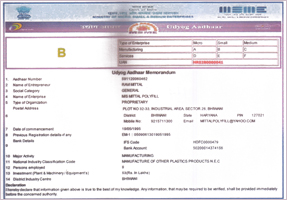 Contact Us
Plot No. 30-33, Sec-26, Industrial Area, Bhiwani, Haryana, 127021, India
Phone :+918037303725